When searching for additional grip on stone stair sets, whether new or old, it can be hard to find solutions. Depending on the density of the stone and the shape of the stair edge, often times stair nosings aren't a viable option. Luckily, tactile studs provide a perfect alternative solution for added grip and stability on stone stairs.
When are stair nosings a good solution for stone stairs?
Stair nosings are ideal when the stone stairs can be screwed into relatively easily and the nosings can be fastened in place with rawlplugs or adhesives. They're perfect for stair sets where the risers meet the tread at a 90-degree angle with no overhang, and where the stair set is relatively short in width and a continuous nosing can be installed.
When compared to other solutions stair nosings, particularly in aluminium can be more cost-effective. Whether the stair nosings are 316L stainless-steel or aluminium they will be quite suitable in most weather conditions when installed outdoors, with 316L faring better overall.
Summary:
They can be fitted with relative ease using screws and rawlplugs
Ideal for 90-degree steps
A cost-effective solution
Both 316L stainless steel and aluminium nosings will perform well outdoors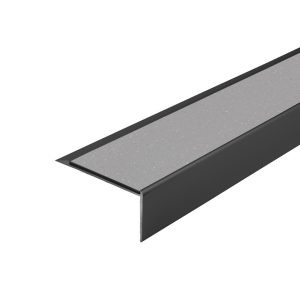 When are stair nosings not a good solution for stone stairs?
Stone stair sets, especially older ones, come in all shapes and variations. When they're rounded at the edge or have an overhang, stair nosings aren't a good fit, as installing them may leave a gap behind the nosing, creating a vulnerability. On older stone stair sets the edge is often subject to wear over time meaning that the nosing may not sit flush with the stair's edge.
Stair nosings aren't a good solution when the stone stairs are a key part of the aesthetic of the area, when covering them would be a net negative to its surroundings. They're also at a disadvantage on particularly large stair sets where multiple meters of nosings are needed and there are visible gaps between separate nosings on the same stair edge. If the stair nosing is damaged in any way the whole unit will need replacing. If a stair nosing does need to be replaced and they're of a custom length there can be an added wait time if they need to be cut or manufactured to a size before they're sent out.
Summary:
Not suitable for stairs with overhangs or rounded edges
Older stone stairs may have worn edges providing a less-than-optimum fit
Stair nosings obscure parts of the stair set and may detract from the aesthetic nature of the surrounding area
Where multiple nosings are required on a single step there may be visible gaps
If damaged the stair nosing will need to be replaced in its entirety
Wait times on supply if they're bespoke sizings
When are tactile studs a good solution for stone stairs?
Due to their self-contained nature, tactile studs can be installed in succession along any stair set and create a cohesive look. With multiple metals and finishes available they can complement any type of stonework. The surface of the studs can also be customised to include logos, insignias, or directional cues to provide information for those ascending or descending the stairs.
By including a crosshatch, grooved or textured insert tactile stud in the installation, grip levels can be vastly improved. Tactile studs are not dependent on the shape of the steps, which means they are a universal solution.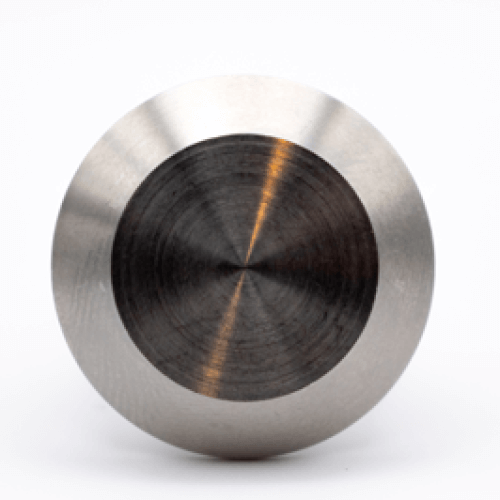 Tactile studs can be installed by drilling into the stone stair set and fixing them in place with resin for a long-lasting if not indefinite hold. In the unlikely event that a stud comes loose, it can be re-inserted and fixed in place once again with resin or replaced should it go missing. Depending on your choice of stud and finish, they are an off-the-shelf solution that can be reordered and supplied quickly.
Summary:
Tactile studs create a cohesive look
They can be matched to any stonework with multiple metal options available
The surface of the studs is customisable with logos, insignias, or directional information
Crosshatch or grooved tactile studs provide increased grip
Tactile studs are an option for stone steps of any shape
Drill and resin installation creates a durable, long-lasting hold
Quick and easy to replace
Widely available as an off-the-shelf solution
When are tactile studs not a good solution for stone stairs?
Tactile studs aren't a good solution if the stone stairs are badly damaged or uneven on the step tread, as the surface needs to be flat to seat the studs properly with no gaps. To install tactile studs a hole must be drilled into the surface of the step and if there are stress fractures or splitting present in the stonework, it may cause further damage. When compared with stair nosings, tactile studs can work out more expensive in the short term and have a much more time-consuming installation process.
Summary:
Not an ideal solution for uneven or damaged step treads
Installation may cause further damage if stress fractures, or splitting is present
A more expensive solution than alternatives
Installation can be time-consuming
Conclusion
Either solution can work depending on your needs, but overall tactile studs offer a lot more flexibility with a level of customisation that's hard to beat, albeit at a higher cost. Tactile studs make for a long lasting, timeless finish to any stone stair set, especially with the right metal, pattern, or engraving.
For our video guide to installing demarcation and tactile studs – click here
If you have any questions about installing tactile studs or stair nosings on stone stair sets, give us a call on 01686 806 450 or email us at [email protected] and we'll be happy to help